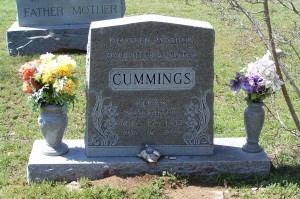 Location: G-Ferguson
Born: August 15, 1932 Lawton, Comanche County, Oklahoma
Died: August 16, 2001 China Spring, McLennan County, Texas
Parents:
Alvin Robert Slaughter (1911 – 1963)
Vivian Oleta Crawford Wallen (1916 – 1999)
Peggy Joyce Slaughter Cummings, 69, of China Spring, our precious beloved mother, lost her struggle with cancer Aug. 16, 2001, at her home.
Services will be at 11 a.m. Monday at Grace Baptist Church with the Rev. Ross Davis officiating. Burial will follow at China Spring Cemetery. Visitation will be 3 to 6 p.m. Sunday, August 19, at Grace Baptist Church.
Peggy was born Aug. 15, 1932, in Lawton, Okla., to Alvin and Oleta Crawford Slaughter. She was raised in the Waco-McGregor area and later married Jack Cummings. Peggy worked for Owens Illinois for 30 years, retiring to care for her elderly mother. Mama loved her children, family and home. Her greatest accomplishment in life, according to her and what she wanted to be remembered for, was loving and raising her seven children.
She was preceded in death by her parents, Alvin Slaughter and Herb and Oleta Wallen; brothers, Rex, Robert and Alvin Slaughter; and grand-daughter, Misty Cummings.
She is survived by her daughters and sons-in-law, Judy Pustejovsky and Ron Basye of Waco, Patsy and Brian Conley of Madisonville, Cindy and Bill Womack of China Spring and Sue and Randy Allman of Ohio; sons and daughters-in-law, Jackie and Jackie Cummings of Waco, Joe and Tricia Cummings of Robinson and Mike and Kathy Cummings of Arlington; brothers and sisters-in-law, Bucky and Jackie Slaughter, Donnie and Betty Slaughter, Ray Slaughter and Fayrene Slaughter; 15 granschildren; 17 great grandchildren; and many other relatives and friends.