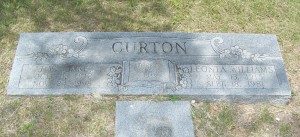 Location: M-Harris
Born: October 11, 1912 McLennan County, Texas
Died: November 24, 1998 China Spring, McLennan County, Texas
Parents:
Thomas Newton Curton (1887 – 1958)
Bertha Crowson Curton (1890 – 1926)
Spouse:
Cora Leonta Williams Curton (1915 – 1981)
Children:
Bertha Jean Curton (1935 – 1936)
Joan Curton Beckham (1941 – 2003)
Betty Sue Curton Hardy (1946 – 2015)
James William also married Margaret Pauline Cannon, daughter of Ernest Watson Cannon and Nellie Leota Jay, on March 9, 1983 in McLennan County, Texas. They had no children.
James W. (Jake) Curton, 86, of Waco passed away Monday at a local hospital.
Services will be at 2 p.m. Friday at Brookview Funeral Home Chapel with the Rev. Billy Mac Patterson officiating. Burial will follow at China Spring Cemetery.
Mr. Curton was born October 11, 1912 and attended China Spring and Waco High School. He married Leonta Williams on September 16, 1933 in China Spring. He worked at Gulf Oil Corp., McLennan County and retired from Waco State Home. He was a Mason and a member of China Spring United Methodist Church. He was an avid fisherman and sports fan and supported youth athletics.
Her was preceded in death by his wife of 48 years, Leonta; his parents, Tom and Bertha; step-mother, Anna Mae; his brother, T.A. Curton and a sister, Maureen Breedlove.
Survivors include two daughters, Joan Beckham and husband Curtis and Betty Lewis and husband Lynn; brother, Duncan of Fort Worth; five grandchildren, Stacy Schmitt, Cory Beckham, Christy Lewis, Gil Beckham, Kim Mathis; great-granddaughter, Hailey Schmitt; several nieces and nephews; and an abundance of friends.