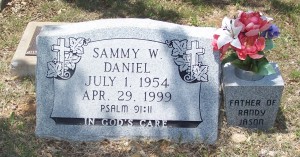 Location: U-Baker
Born: July 1, 1954 Collin County, Texas
Died: April 29, 1999 Waco, McLennan County, Texas
Parents:
Marvin P. Daniel (1917 – 1972)
June Elizabeth Daniel (1906 – 1994)
Samuel Walton Daniel, 44, a longtime resident of Waco, died April 29, 1999 at a local hospital. Services will be at 1:30 p.m. Monday, May 2 at Pecan Grove Funeral Home Chapel with the Rev. R. L. Whitworth officiating. Burial is to follow at China Spring Cemetery.
Mr. Daniel worked at Crankshaft and Valve for 30 years and was a member of Calvary Assembly of God in Waco.
He is survived by his wife, Linda White Daniel; two sons, Randy and Jason Daniel; sister Marvette Olson; brother Franklin Daniel, all of Waco; three grandchildren.