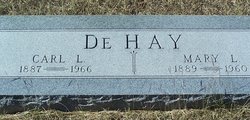 Location: N-Crowson
Born: April 20, 1889 Georgia
Died: October 24, 1960 Waco, McLennan County, Texas
Daughter of John Maxwell
Spouse:
Carl Lillard DeHay (1887 – 1966)
Children:
Ruby Carl DeHay Crump (1912 – 2000)
Johnnie Dow DeHay Dennis (1921 – 2005)
Mrs. Mary Louise DeHay, 71, died at 1 a.m. today (October 24, 1960) at her home in the Hewitt community.
Funeral services will be at 2 p.m. Tuesday in Compton's Funeral Chapel, Rev. Charles W. Thomas officiating, burial in China Spring Cemetery.
Mrs. De Hay was born in Georgia and have lived in China Spring and Hewitt communities most of her life. She was a member of the Hewitt Methodist Church.
Survivors include her husband, C. L. DeHay; son, S. M. DeHay; three daughters, Mrs. Ruby Crump, Mrs. Ruth O'Connor, and Mrs. Johnnie Ennis; two brothers, Will Maxwell of Mart and John Maxwell of California; five grandchildren and one great-grandchild.