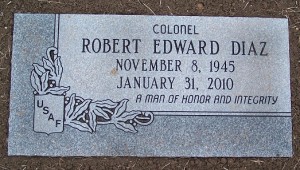 Location: L-Roberts
Born: November 8, 1945 San Jose, Costa Rica
Died: January 31, 2010 Arlington, Tarrant County, Texas
Son of Jose Diaz and Nell Smith Diaz
Parents:
Nell Smith Diaz (1912 – 2006)
Robert Edward Diaz, 64, distinguished attorney and U.S. Air Force reservist, passed away Sunday, Jan. 31, 2010, in Arlington.
Celebration of life: 1 p.m. Saturday, March 6, at New World United Methodist Church, 2201 N. Davis Drive, Arlington.
Memorials: In lieu of flowers, donations may be made to the Multiple Myeloma Foundation.
Robert was born Nov. 8, 1945, in San Jose, Costa Rica, the son of Julio Diaz and Nell Smith. He attended Arlington Heights High School in Fort Worth and earned his juris doctorate in 1970 at the
University of Texas
at Austin.
After commissioning through the U.S. Air Force Reserve Officer Training Corps in 1967, he served as judge advocate, U.S. Air Force Reserves, 1974 to 1997, in the U.S. and Europe, attaining the rank of colonel in 1992.
Col. Diaz served as senior assistant city attorney and police legal adviser for the city of Arlington from 1974 until 1997. His practice concentrated in public sector labor relations and public safety (police and fire) law.
Bob will always be remembered for his integrity, spirit and courage. He was an excellent role model and influenced so many lives. Bob's passions in life were extensive, including world travel, people and their cultures. He was an avid reader and never gave up his childhood hobby, stamp collecting. He dedicated himself to his family, friends and colleagues and will be missed by all who knew him.
Robert "Bob" published various articles for military and civilian journals, seminar workshops, as well as appeared as a frequent guest lecturer on military and civilian legal issues. His dedication to his profession earned him many awards, including the U.S. Legion of Merit, U.S. Air Force Meritorious Service Medal, U.S. Air Force Commendation Medal, TCAA Assistant City Attorney of the Year, and Arlington Chamber of Commerce & Police Dept. Distinguished Service Award.
Survivors: His beloved wife of 26 years, Jenny Diaz; children, Olivia Clifton and Jason Diaz; granddaughter, Lila Clifton; sisters, Cristina Dobleman, Irma Diaz Seixas and Norita Diaz Villalaz; brothers, Jose Diaz Seixas, Juan Diaz Villalaz, Julio Diaz Seixas and Julio Ricardo Diaz Villalaz; nephews, Cole and Kyle Johnson; and numerous nieces and nephews.
Published in, "Ft. Worth Start Telegram", Ft. Worth, Texas, February 2011