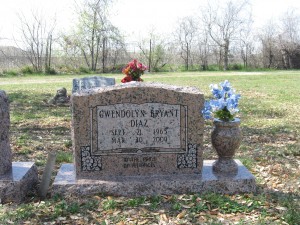 Location: G-Ferguson
Born: September 21, 1963 Waco, McLennan County, Texas
Died: March 30, 2009 Mesa, Maricopa County, Arizona
Daughter of Jerry Don Bryant and Shirleen Lindsey Bryant
Parents:
Shirleen Lindsay Bryant (1943 – 1978
Gwendolyn "Gwen" Gayle Bryant Diaz, 45, of Mesa, Ariz., formerly of Waco, died Monday, March 30, 2009 in a tragic motorcycle accident in Arizona. Graveside services will be 11:30 a.m. Saturday, April 4, at China Spring Cemetery with Bro. Ivan Ker officiating.
Gwen was the daughter of Jerry Don Bryant and Shirleen Lindsey Bryant.
She was preceded in death by her mother.
Gwen is survived by her daughters, Jadyn Travis and Dymond Diaz; son, Zane Travis; her father and step-mother, Jerry Don and Janie Bryant, of Waco; sisters, Robin Loranc and Tricia Vasquez; and step-sisters, Donna Tullous, Cyndi Kimball and Kellie Sparks.