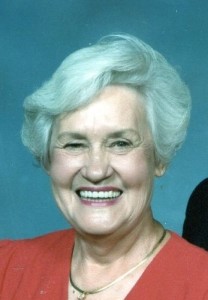 Born: October 14, 1923 China Spring, McLennan County, Texas
Died: April 18, 2016 Waco, McLennan County, Texas
Parents:
George Carlton Meadows (1903 – 1954)
Emma O Sawyer Meadows (1900 – 1984)
Spouses:
Charles William Dickenson (1918 – 2009)
John William Oliver (1920 – 1986)
Siblings:
Jack M Meadows (1925 – 1998)
Bill R Meadows (1927 – 1999)
Mary Jo Meadows Nix (1930 – 2014)
Marjorie O'Dell Meadows Dickenson, of Waco, TX, went to be with the LORD Monday, April 18, 2016. Marjorie was born October 14, 1923 in China Spring, TX. She was preceded in death by her parents George Carlton Meadows and Emma Sawyer Meadows; her two brothers, Jack Meadows and Bill Meadows; her sister, Mary Jo Nix; her precious son John (Bill) Oliver Jr.; and her beloved husband, Charles William Dickenson.
Marjorie grew up in Waco attending Waco schools and graduated from Waco High in 1941. One of her greatest pleasures later in life was helping plan reunions for the Class of 41'. Following graduation she began her working career at Central Texas Iron Works until moving to Dallas with her then husband, John (Billy) Oliver, who was attending Perkins School of Theology. After his graduation they served several churches in the Central Methodist Conference. In 1965 they moved to Dallas and she continued her working career in the insurance business. In 1969, she began a twelve year banking career at Lakewood Bank & Trust in charge of marketing and development until her retirement in 1982. She then married Charlie Dickenson and returned to Waco.
Marjorie continued serving in volunteer capacities at East Terrace Historical Home, The YWCA, and was a board member of MHMR. She and Charlie were Charter members of what is now Central United Methodist Church. They were married for 27 wonderful years until his passing in 2009. This was a period in her life when she enjoyed golf, playing duplicate bridge, where she attained a rank of Life Master, and she cherished her time with family and friends. For the last 7 years, she enjoyed a full life at Stilwell Retirement Center and Regent Care Center.
She is survived by daughter, Jody Hagan; son-in-law, Lance Hagan; granddaughter, Courtney Graves and her husband, George Graves; grandsons, Will and Charlie Hagan; and several first cousins, nieces and nephews.
Marjorie impacted family and friends and all of those around her in a loving and positive way. She will be greatly missed, but is now resting in Gods Glory.
A memorial service will be held Tuesday, April 26 at 11am at Central United Methodist Church, 5740 Bagby Ave., Waco, Tx 76712. Memorials may be made in Marjorie's memory to Central United Methodist Church.