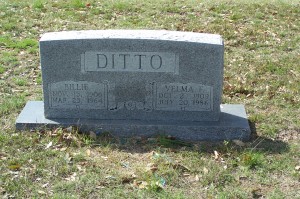 Location: T-Carpenter
Born: November 13, 1906 Memphis, Hall County, Texas
Died: March 23,1964 Waco, McLennan County, Texas
Parents:
Francis "Frank" Ditto (1883 – 1967)
Nettie Ann Wilkins Ditto (1889 – 1990)
Spouse:
Velma Florine Wilson Ditto (1909 – 1986)
Children:
Billy Lafonne Ditto (1928 – 2011)
Charles Vernon Ditto (1933 – 1971)
James Wilson Ditto (1942 – 1991)
Billie Ditto, 57, died 7 a.m. Monday at his home in Waco.
Funeral services were held at 4 p.m. Tuesday at China Spring Methodist Church, Rev. Wayne Dunson officiating, burial in China Spring Cemetery.
Survivors: His wife; three sons, Billy L. Ditto of Corpus Christi, Charles V. Ditto and Wilson Ditto, both of Waco; daughter, Mrs. Eugene Simpson of Waco; parents, Mr. and Mrs. Frank Ditto of China Spring; brother, W. T. Ditto of Waco; sister, Mrs. Walter Olson of Waco; eight grandchildren.