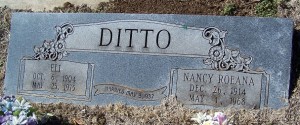 Location: H-Garrett
Born: October 16, 1904 China Spring, McLennan County, Texas
Died: May 25, 1975 Waco, McLennan County, Texas
Parents:
Edward B Ditto (1880 – 1919)
Martha Mae Wiley Ditto (1883 – 1954)
Spouses:
Nancy Rowena Horton Ditto (1914 – 1968)
Janie Walther Casey Ditto (1892 – 1974)
Eli Ditto, 70, of 3601 Erath died Sunday morning in a local hospital.
Services will be 2:30 p.m. today in Connally-Compton Downtown Chapel, Rev. Hoyt Hunnicutt and Rev. Paul Smith officiating.  Burial will be in China Spring Cemetery.
Mr. Ditto was born Oct. 16, 1904, in China Spring.  He was retired from the City of Waco street department.
Survivors include a son, Doug Ditto of Mesquite; three daughters, Mrs. Doris Light of China Spring, Mrs. Ruby Bridges of 3112 North Eighteenth and Mrs. Helen Harris of 3020 Wenz; two brothers, Guy Ditto of Big Spring and Willy Ditto of 3521 Pine; and 11 grandchildren.