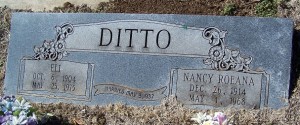 Location: H-Garrett
Born: December 26, 1914 Hall County, Texas
Died: May 2, 1968 Waco, McLennan County, Texas
Parents:
William Robert Horton (1874 – 1953)
Sarah Emma York Horton (1887 – 1919)
Spouse:
Eli Ditto (1904 – 1975)
Mrs. Eli (Roeana) Ditto, 53, of China Spring, died at 11:55 a.m. Wednesday in a local hospital.
Funeral services were held at 3 p.m. Friday in China Spring Baptist Church, Rev. Paul Smith assisted by Rev. Earl C. Vanderford officiating, burial in China Spring Cemetery.
Survivors; her husband; three daughters, Mrs. Dorris Light, Miss Helen Ditto and Mrs. Ruby Bridges; son, Douglas Ditto of Mesquite, Texas; nine grandchildren; sister, Mrs. Homer Gray of Mosheim; two brothers, E. R. Horton of McGregor and Robert Horton of Fort Worth.