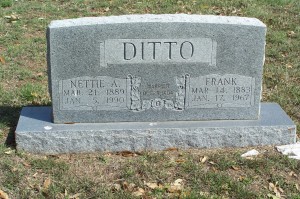 Location: T-Carpenter
Born; March 21, 1889 Bosque County, Texas
Died: January 5, 1990 Waco, McLennan County, Texas
Daughter of Louis C. Wilkins and Cynthia Ann Davis Wilkins
Spouse:
Francis 'FRANK" Ditto (1883 – 1967)
Children:
Billie Ditto (1906 – 1964)
Lillie Belle Ditto Olson (1908 – 2001)
W T Ditto (1911 – 1982)
Charles Vernon Ditto (1933 – 1971)
Mrs. Nettie Ann Ditto, 100, of China Spring died Friday in a local nursing home.
Graveside services will be at 11 a.m. Monday at China Spring Cemetery.
Mrs. Ditto was born March 21, 1889 in Bosque County and was a longtime resident of China Spring.
Survivors include a daughter, Lillie Olson of Waco; and nine grandchildren.