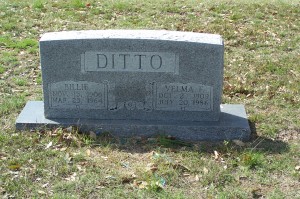 Location: T-Carpenter
Born: October 2, 1909 China Spring, McLennan County, Texas
Died: July 20, 1986 Waco, McLennan County, Texas
Parents:
William David Wilson (1880 – 1942)
Clara Margaret Brock Wilson (1889 – 1970)
Spouse:
Billie Ditto (1906 – 1964)
Children:
Billy Lafonne Ditto (1928 – 2011)
Charles Vernon Ditto (1933 – 1971)
James Wilson Ditto (1942 – 1991)
Mrs. Velma Ditto, 76, of China Spring died Sunday at a local hospital.
Services will be at 10 a.m. Tuesday at China Spring Cemetery, the Rev. J. W. Riemenschneider officiating.
Mrs. Ditto was born October 2, 1909 in China Spring where she attended school. She was married to Billie Ditto in 1926 in China Spring. He died in 1964.
She worked in the nursery at Hillcrest Baptist Medical Center for 12 years. She also owned and operated a coin-operated laundry in Valley Mills for six years. She was a member of China Spring United Methodist Church.
Survivors include a daughter, Peggy Ann Simpson of China Spring; two sons, B. L. Ditto and Wilson Ditto, both of China Spring; 11 grandchildren; and six great-grandchildren.