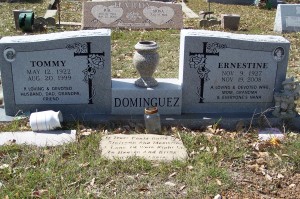 Location: V-Eichelberger
Born: November 9, 1927 Marlin, Falls County, Texas
Died: November 19, 2008 China Spring, McLennan County, Texas
Daughter of Joe and Delores Garcia
Spouse:
Tommy Dominguez (1922 – 1999)
Children:
Mary Ann Dominguez Higgins (1947 – 2012)
Ernestine Dominguez, 81, passed away Wednesday, Nov. 19, 2008, after a short battle with cancer. A Mass in commemoration of Nana's life will be celebrated 10 a.m. Friday, Nov. 21, at St. Francis Catholic Church 301 Jefferson, in Waco, followed by interment at China Spring Cemetery. Visitation with the family will be 5 p.m. with a Rosary Service at 7 p.m. Thursday, Nov. 20, at Brazos Funeral Home.
Ernestine was born in Marlin, Texas, to the late Joe and Delores Garcia, one of eleven children. She married Tommy Dominguez, on Sept. 17, 1945, at Saint Francis Catholic Church in Waco. They settled in rural China Spring, and together raised five children. Nana and Tommy built a household where education was a priority, and life was filled with learning opportunities. Hard work was valued and plentiful. Nana treasured her rich cultural heritage, passed its traditions down to her children, even when it was not a popular notion to do so. The home she made was warm and loving. She taught her children by her example, to respect themselves and each other, to pick their battles and to be the warm individuals they each are, today. Her last months were filled with the familiar sounds of her children, again, by her side cooking for her; teasing her; letting her win at checkers; taking one last day trip to Stranger, Texas, where she went to grade school; laughing at times and crying at times. All doing what they could to make Nana happy. Visiting and caring for her during her last days were some of her most grateful "adopted grandchildren," Nichole Anderson and her brother, Nicholas Green, as well as their mother, Mary Brewer, Coy Brewer and Erv Bonhakowski, whose support was greatly appreciated.
Nana was preceded in death by a son, Roman; and her beloved husband of 54 years, Tommy Dominguez.
She is survived by daughters, Mary Ann Higgins and husband, Bill, and Cathline Dominguez, all of China Spring, and Hope Dominguez-Reese and husband, the Rev. Charles Reese, of Kerens, Texas; son, Joe Anthony Dominguez and wife, Winnie, of San Antonio; grandchildren, Christina Higgins-Ratliff and husband, Reagan, and Tommy Higgins and wife, Courtney; great-grandsons, Isaac Higgins and Jacob Ratliff; and many other family members and friends.