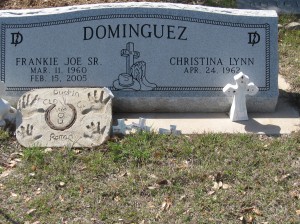 Location: V-Eichelberger
Born: March 11, 1960
Died: February 15, 2005 Waco, McLennan County, Texas
Frankie Joe Dominguez, Sr., 44, of China Spring, died Tuesday, February 15, 2005 at a local hospital. Mass of Christian Burial will be celebrated at 12:30 p.m. at St. Francis on the Brazos Catholic Church with Deacon Jessie Garza officiating. Burial will follow at China Spring Cemetery.
Mr. Dominguez was married 25 years and blessed with two children. He graduated from China Spring High School in 1979. He broke and trained horses. He was a loving and caring father, always having his family and wife at his side. He was employed by Lindsey Contractor for 16 years and was an outstanding crew leader.
"If you teach a kid the value and responsibility of horsemanship…You can keep them out of trouble and off the streets."
Survivors include wife, Christina Lynn Dominguez; daughter, Cassie Wilson and husband Leslie; son, Frankie Joe Dominguez, Jr. and wife, Martie all of China Spring; two grandchildren; sisters, Rosemary Dominguez and Mary E. Luna, both of China Spring.