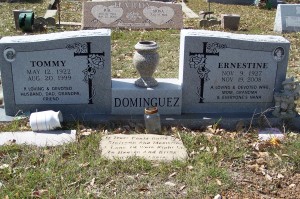 Location: V-Eichelberger
Born: May 12, 1922 Ramos, San Luis Potosi, Mexico
Died: August 20, 1999 China Spring, McLennan County, Texas
Son of Roman and Inez Dominguez
Spouse:
Ernestine Garcia Dominguez (1927 – 2008)
Children:
Mary Ann Dominguez Higgins (1947 – 2012)
Tommy Dominguez, 77, died August 20, 1999, at his home in China Spring, surrounded by his wife, grandchildren, four children and their spouses. A funeral mass will be celebrated at 10 a.m. Monday, August 23, 1999 at St. Francis Catholic Church, with graveside services to follow at China Spring Cemetery.
Mr. Dominguez was born in Ramos, San Luis Potosi, Mexico. As a child, he immigrated with his family to the U.S. and in 1953 was naturalized as a U.S. citizen. Her married Ernestine Garcia, his wife of 53 years, and together they raised four children in China Spring. He was a longtime member of St. Francis Catholic Church, the Knights of Columbus and was a charter member of the new St. Philips Catholic Church in China Spring.
He was an expert mechanic by trade, farmer by hobby and small business owner. He owned and operated his own service station that was the heart of China Spring for more than 20 years. In 1969 he began work for Central Freight Lines in Waco and retired after many years of service. After his retirement, he continued to work part-time at a local vehicle state inspection station.
Mr. Dominguez was preceded in death by his parents; Roman and Inez Dominguez; son, Roman; sister, Dolores Dominguez; and brother, Pete Dominguez.
Mr. Dominguez is survived by his wife, Ernestine;  three daughters, Mary Ann Higgins, Cathy Cuevas of Big Bend, and Hope Reese of Kerens; son, Joe Dominguez of San Antonio; two grandchildren; brother, Julian Dominguez; sisters, Maria and Margaret Dominguez, of China Spring.