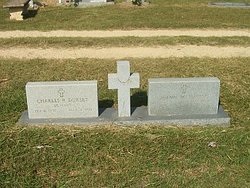 Location: W-Drahn
Born: February 16, 1937 Greenville, Hunt County, Texas
Died: March 4, 1992 Waco, McLennan County, Texas
Son of Henry B. and Thelma Byrd Dorsey
Parents:
Henry B. Dorsey (1914 – 1975)
Thelma Lee Dorsey (1916 – 2008)
Charles R. (Chuck) Dorsey of China Spring, a retired maintenance mechanic, died Wednesday at a local hospital. He was 55.
Services will be at 2:30 p.m. Saturday at Wilkirson-Hatch Funeral Home Chapel, the Rev. Alton Ray officiating. Burial will be at China Spring Cemetery.
Mr. Dorsey was born February 16, 1937 in Greenville and attended school in Hillsboro. He married JoAnn Woodward on April 27, 1929. Mr. Dorsey was a U.S. Navy veteran and a maintenance mechanic at Weyerhaeuser, Inc. retiring in 1991. He was a Baptist.
Survivors include his wife; mother, Mrs. Henry B. Dorsey of Hillsboro; two daughters, Roberta Kopple and Karey Domen, both of Carson City, Nevada.