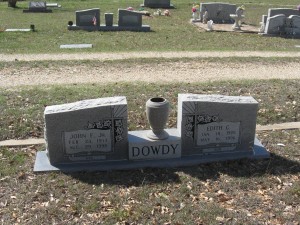 Location: V-Eichelberger
Born: January 18, 1925 Belton, Bell County, Texas
Died: May 16, 1996 Waco, McLennan County, Texas
Daughter of Charles and Jewel Echols Campbell
Parents:
Charles A.C. Campbell (1894 – 1978)
Jewel Echols Campbell (1894 – 1981)
Spouse:
John Frank Dowdy (1913 – 1998)
Edith Campbell Dowdy, age 71 of China Spring, died Thursday in a local hospital. Services at 10:00 a.m. Saturday at Richfield Christian Church, with Rev. David Story officiating. Burial at China Spring Cemetery.
Mrs. Dowdy was born January 18, 1925 in Belton, Texas. A loving wife and mother, she died after a courageous battle with cancer. She graduated from Rogers High School in 1942. She worked for the China Spring ISD for 20 years in the cafeteria. She retired in March. She was a member of Richfield Christian  Church.
She is survived by her loving husband of 50 years, John Frank Dowdy, Jr. of China Spring. Other survivors include daughter, Leslie Warner of Garland; sons, John Frank Dowdy III of Garland, David C. Dowdy of Plano,Richard C. Dowdy of Duluth, Georgia, Dean Dowdy of China Spring, and Mark C. Dowdy of Garland; two sisters, Elaine Brock of Austin and Marian Dixon of Houston; brother, Alva Campbell of San Antonio; five grandchildren; 1 great-grandchild; and two great aunts, Corine Coloman and Mary Mathis, both of Waco.
She was preceded in death by her parents, Charles and Jewel Campbell of Rogers, brother, Charles of San Antonio. The good in her heart touched many and helped many more. Our loss is the Lord's gain.