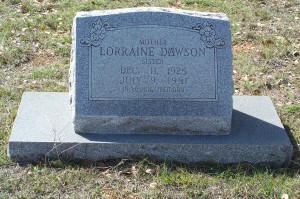 Location: V-Eichelberger
Born: December 11, 1925 Waco, McLennan County, Texas
Died: July 9, 1981 Waco, McLennan County, Texas
Parents:
Lee Thomas French (1880 – 1948)
Bertie Blackburn French (1885 – 1953)
Spouse: Lewis D. Dawson
Mrs. Lorraine Dawson, 55, of York, Nebraska, sister of two Wacoans, died Thursday in a local hospital.
Graveside services will be at 10 a.m. Monday in the China Spring Cemetery, Dr. Larry Keefauver officiating.
Mrs. Dawson was born in Waco and attended schools here. She married Lewis Dawson in 1953 in Waco. She was a Baptist.
Survivors include her husband; three daughters, Mrs. Wilma (Bob) Logue of Sioux City, Iowas, Mrs. Margaret (Ted) Epp of Lincoln, Nebraska and Mrs. Lana (George) Rodgers of Sheridan, Wyoming; two sons, Lewis D. Dawson of Columbia, Nebraska and Larry D. Dawson of Sioux City, Iowa; three sisters, Mrs. Sue Burmeister and Mrs. Alma Wolfe, both of Waco, and Mrs. Wilma Ritter of Corpus Christi; and 15 grandchildren.