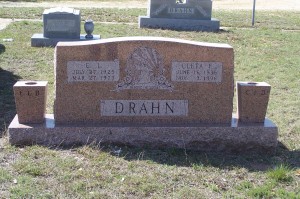 Location: V-Eichelberger
Born: June 16, 1936 Waco, McLennan County, Texas
Died: November 3, 1996 Waco, McLennan County, Texas
Parents:
Robert L Johnson (1903 – 1974)
Mina Black Johnson (1903 – 1996)
Spouse:
Edwin Lawson Drahn (1925 – 1975)
Children:
Tracy A Drahn (1962 – 1963)
Cleta Faye Johnson Drahn, 60, of Waco passed away Sunday, November 3, 1996.
Graveside services will be held at 10 a.m. on Thursday, November 7, at China Spring Cemetery.
Survivors include her sons, E.L. Drahn,Jr. of Moshine; daughter, Angel Gauthier of China Spring; and five sisters, Annice Urquides of Wyoming, Eva Ruth Evans of Kilgore, Berta Garner of Weatherford, Lou Norvec of Lorena and Mildred McGlaughin of Waco.