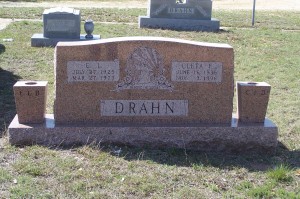 Location: V-Eichelberger
Born: July 27, 1925 Bosque County, Texas
Died: March 27, 1975 Temple, Bell County, Texas
Parents:
Jeff Lawson Drahn (1903 – 1992)
Minnie Lee Higginbotham Drahn (1906 – 1983)
Spouse:
Cleta Faye Johnson Drahn (1936 – 1996)
Children:
Tracy A Drahn (1962 – 1963)
E. L. Drahn, 49, of Route 3, Waco, died Thursday afternoon in a Temple hospital.
Funeral services: 3: p.m. Saturday at China Spring Baptist Church, Rev. Ellis Morrison and Rev. Hoyt Hunnicutt officiating, burial in China Spring Cemetery.
Survivors: his wife, Mrs. Cleta Faye Drahn; his parentes, Mr. & Mrs. Lawson Drahn of Waco; son, E. L. Drahn, Jr. of Waco; daughter, Angel Faye Drahn of Waco.
Active pallbearers: Dan Eckols, James Dean, Andy Barnhardt, Robert Sydrow, Bill Montgomery, Alfred Dennis, Ray Wimpie and Bill Pack.