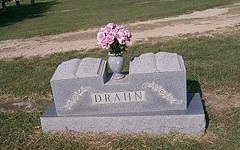 Location: V-Eichelberger
Born: June 26, 1903  China Spring, McLennan County, Texas
Died: June 13, 1992 Valley Mills, Bosque County, Texas
Son of Edward Lawson and Henrietta Brock Drahn
Parents:
Edward Lawson Drahn (1861 – 1951)
Henrietta Brock Drahn (1867 – 1962)
Children:
Edwin Lawson Drahn (1925 – 1975)
Jeff Lawson Drahn of Valley Mills, a retired Cameron Mills employee, died Saturday at a local nursing home. He was 88.
Graveside services will be 11:30 a.m. Tuesday at China Spring Cemetery, the Rev. Paul Smith officiating.
Mr. Drahn was born in the China Spring area and attended schools in McLennan and Bosque Counties. He was in the produce business for several years in Valley Mills and worked for Cameron Mills in Waco for 20 years before retiring in 1968. He married Minnie Lee Higginbotham in 1924; she died in 1983. Mr. Drahn was a member of First Baptist Church in China Spring.
Survivors include a sister, Mrs. E.V. (Maude) Carter of Hereford; five grandchildren; and aseven great-grandchildren.