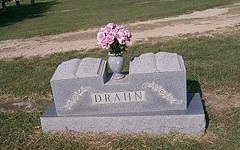 Location: V-Eichelberger
Born: December 31, 1906 McLennan County, Texas
Died: May 8, 1983 Clifton, Bosque County, Texas
Daughter of  William Robert and Pleassie Dixon Higginbotham
Parents:
William Robert Higginbotham (1873 – 1931)
Pleassie Dixson Higginbotham (1878 – 1920)
Children:
Edwin Lawson Drahn (1925 – 1975)
Mrs. J. L. (Minnie Lee) Drahn, 77, of Waco, died Sunday at a Clifton hospital.
Services will be at 2:30 p.m. Tuesday at First Baptist Church of China Spring, the Rev. Paul Smith and the Rev. Liebert Armour officiating. Burial will be at China Spring Cemetery.
Mrs. Drahn was married to J.L. Drahn in 1924. She was a Baptist.
Survivors include her husband; two brothers, Roosevelt Higginbotham of Moody and John R. Higginbotham of Valley Mills; five grandchildren; and seven great-grandchildren.