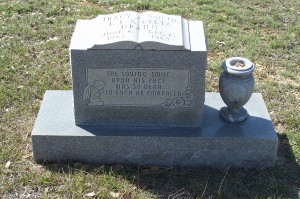 Location: V-Eichelberger
Born: June 6, 1962 China Spring, McLennan County, Texas
Died: December 6, 1963 Waco, McLennan County, Texas
Parents:
Edwin Lawson Drahn (1925 – 1975)
Cleta Faye Johnson Drahn (1936 – 1996)
Tracy Alan Drahn, 18 month old son of Mr. & Mrs. E. L. Drahn of China Spring, died of natural causes Friday in a local hospital.
Funeral services will be at 2:30 p.m. today in China Spring Baptist Church, Rev. Carl Jones and Rev. Paul Smith officiating, burial in China Spring Cemetery.
Besides his parents, the infant is survived by two sisters, Charlotte Ione Drahn and Glenda Sue Drahn; two brothers, E. L. Drahn, Jr. and David L. Drahn; maternal grandparents, Mrs. & Mrs. R. L. Johnson; and paternal grandparents Mr. & Mrs. J. L. Drahn, all of China Spring.