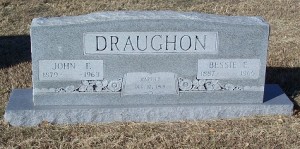 Location: K-Jay
Born: October 12, 1887 Arkansas
Died: April 16, 1965 Waco, McLennan County, Texas
Parents:
Noah W Simpson (1838 – 1913)
Harriet Anna Turner Simpson (1863 – 1922)
Spouse:
John F Draughon (1879 – 1963)*
Mrs. J. F. (Bessie E) Draughon, 77, of Waco, died Friday night in a Waco nursing home.
Funeral services will be held at 2:30 p.m. Sunday at the Speegleville Methodist Church. Rev. Jimmie Earles will officiate, burial will be in China Spring Cemetery.
Survivors include two sisters, Mrs. Maude Kelley of St. Louis, MO and Mrs. Pearl Berne of Salem, MO; two brothers, W. W. Simpson and H. A. Simpson.