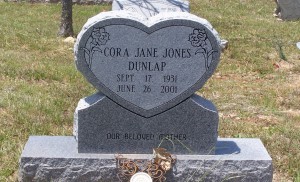 Location: W-Drahn
Born: September 17, 1931 Delaware
Died: June 26, 2001 Waco, McLennan County, Texas
Parents:
Harvey M. Jones (1897 – 1960)
Hazel E. Jones (1909 – 1950)
Jane Jones Dunlap, 69, of Waco died Tuesday, June 26, 2001 at a local hospital.
Graveside services will be at 11 am Friday, June 29 at China Spring Cemetery with the Rev. Jim Donaldson officiating.
Survivors include her daughter, Betsy Hazel Thomas and Tommy Churmesky of Waco; sons, Howell and Diane Dunlap II  of Waco and Billy and Genita Dunlap of China Spring; sisters, Donna Jean Daly of Pennsylvania and Betty Lou Masten of Maryland; brother, John Paul Jones of Delaware; nine grandchildren and seven great-grandchildren.