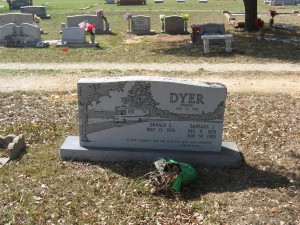 Location: V-Eichelberger
Born: December 9, 1929 Chautauqua County, Kansas
Died: November 30, 1995 China Spring, McLennan County, Texas
Parents:
Thomas Earl Hess (1885 – 1975)
Lillian Mae Sullivan Hess (1894 – 1984)
Spouse:
Donald Eugene Dyer (1926 – 2017)
Barbara J. Dyer of China Spring, a former teacher, died Thursday at her home.  She was 65.
Services will be 2:30 p.m. today at Central Christian Church, the Rev. Richard Roland officiating.  Burial will be at China Spring Cemetery.
Mrs. Dyer was born Dec. 9, 1929, near Cedarvale, Kan.  She married Donald Dyer on June 22, 1952, in Sedan, Kan.  She had held several jobs including teaching in a one-room, eight-grade school, acting as retail manager of a camera store, and working in the FBI and IRS.
She volunteered as a Girl Scout leader, a PTA member and a library volunteer at the school her children attended.  She also was a member of Central Christian Church where she was a Sunday school teacher, a CWF member, a choir member and a deaconess.
Survivors include her husband; a daughter, Janet Fick of Montgomery; a son, James E. Dyer of Richardson; a brother, Donald T. Hess of McAllen; and five grandchildren.
Memorials may be made to Hillcrest Community Hospice or to Central Christian church.