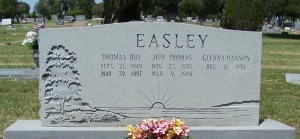 Location: U-Baker
Born: November 21, 1983 Waco, McLennan County, Texas
Died: March 9, 1984 Waco, McLennan County, Texas
Parents:
Thomas Roy Easley (1949 – 1997)
Glenna Hanson Easley (1950 – ____)
Jeff Thomas Easley, 3 1/2 months old, of China Spring, died Friday at a local hospital.
Services will be at 2:30 p.m. Monday at Wilkirson-Hatch Funeral Home Chapel, the Rev. Frank Turner officiating. Burial will be at China Spring Cemetery.
He was born November 21, 1983 in Waco.
Survivors include his parents; brother, Jeb Thomas Easley; sister, Susannah Easley; grandparents, Rev. & Mrs. Bill Easley of Coolidge and Mr. & Mrs. Glenn Hanson of Lamesa; two great-grandparents, Mrs. Wade Bagwell and Mrs. J. R. Hanson, both of Lamesa and a great-great-grandmother, Mrs. E. S. McArty of Gatesville.