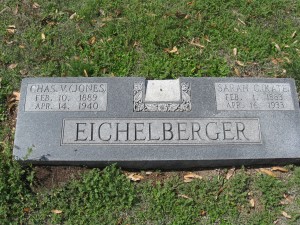 Location: I-Jackson
Born: January 1, 1883 Texas
Died: April 16, 1933 Waco, McLennan County, Texas
Daughter of J.T. Davis and Allie Martin Davis
Spouse:
Charles Vernon Eichelberger (1889 – 1990)
Children:
Infant Girl Eichelberger (1908 – 1908)
Luella Dee Eichelberger Ferguson (1910 – 1955)
Charlie Lee Eichelberger Peters (1913 – 1975)
Martin Davis Eichelberger (1915 – 1977)
R E (Jiggs) Eichelberger (1917 – 1957)
Mrs. Sarah Catherine Eichelberger, 50, of China Spring, died in a local sanitarium, Sunday at 5:05 a.m.
Funeral services will be held Monday at 10 a.m. at the Methodist Church in China Spring. Burial will be in the China Spring Cemetery.
Surviving are her husband, C. V. Eichelberger; two son, Martin and Lone Davis Eichelberger; two daughters, Luella and Charlie Lee Eichelberger; brother, Lone Davis; three sisters, Mrs. T. E. Maddin, Mrs. Teel O'Neill and Mrs. R. R. Been.
Mrs. Eichelberger was born and reared in McLennan County and has lived here all her life.