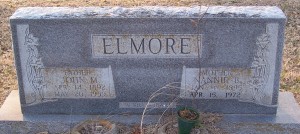 Location: T-Carpenter
Born: January 4, 1895 Tyler, Smith County, Texas
Died: April 15, 1972 Waco, McLennan County, Texas
Parents:
Ira Dabney Lewis (1847 – 1915)
Mary Elizabeth Perry Lewis (1856 – 1939)
Spouse:
John Mack Elmore (1892 – 1959)
Mrs. John Mack Elmore, 77, of Waco died Saturday night in a Waco hospital.
Funeral services will be held at 1 p.m. Tuesday at Wilkirson-Hatch Chapel, Rev. James Finley and Rev. Richard Elmore officiating, burial in China Spring Cemetery.
Survivors are two daughters, Mrs. E. C. (Lois) Banks of Waco and Mrs. Joe H. (Hazel) Gee of Dallas; two sons, Lee Elmore of Lubbock and C.M. (Pete) Elmore of Clifton; brother, J. W. Lewis of Waco; six grandchildren and six great-grandchildren.