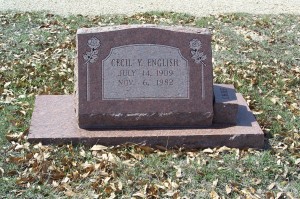 Location: V-Eichelberger
Born: July 4, 1909 Jenks, Tulsa County, Oklahoma
Died: November 6, 1982 Waco, McLennan County, Oklahoma
Spouse:
Era Mae McGowan English (1909 – 2002)
Cecil Yargee English, 73, of Waco, a retired Central Freight Lines employee, died Saturday at a local hospital.
Services will be at 2:30 p.m. Wednesday at Connally-Compton Downtown Funeral Home Chapel, the Rev. Donald G. Smith officiating. Burial will be at China Spring Cemetery.
Mr. English was a Yuchi Indian of the Creek Nation and was better known as Chief of Cochise. he was born July 14, 1909 in Jenks, Oklahoma and had lived in Waco for 22 years.
Survivors include his wife, Era Mae English; two daughters, Mrs. Sammy Jo Watson of Euless and Mrs. Jean E. Place of Arlington; three sisters, Mrs. Jenney George and Mrs. Virginia King, both of Jenks, Oklahoma and Mrs. Irene Hayes of Broken Bow, Oklahoma; eight grandchildren; and seven great-grandchildren.