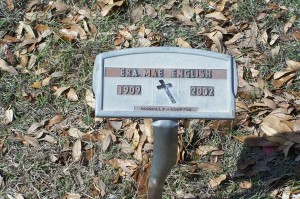 FHM. Location: V- Eichelberger
Born: August 18, 1909 Norton, Runnels County, Texas
Died: October 28, 2002 Waco, McLennan County, Texas
Parents:
Albert Newman McGowan (1870 – 1957)
Mary Deliah Manning McGowan (1876 – 1953)
Spouse:
Cecil Y English (1909 – 1982)
Era Mae McGowan English, 93, passed away Oct. 28, 2002 in Waco.
Services will be 2 p.m., Friday, Nov. 1, 2002 at Connally Compton Funeral Directors Chapel. Interment will follow at China Spring Cemetery.
Era was born Aug. 18, 1909 in Norton, Texas to Albert and Mary McGowan. She married Cecil Yarquee English on Dec. 6, 1926 and they resided in Texas and Oklahoma until she moved to Texas permanently in 1936 when she became a resident of McLennan County.
Era was preceded in death by her husband on Nov. 6, 1982 and a daughter, Sammy Jo English Watson on Aug. 10, 1990.
She is survived by her daughter, Jean English Place of Arlington; eight grandchildren; 21 great-grandchildren; and two great-great-grandchildren.
Pallbearers will be: Charles A. Place, David A. Lakota, John L. Watson, Jim Davis, Daniel E. Byrd and Clifton E. Place.