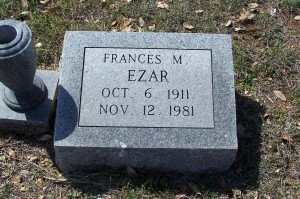 Location: V-Eichelberger
Born: October 6, 1911 Lee County, North Carolina
Died: November 12, 1981 McLennan County, Texas
At the time of her death, she was married to Richard B. VanVleck
Daughter of John Abram Matthews and Georgia Miller Matthews
She was the daughter of John Abram Matthews born 26 April 1869 NC and died 31 Oct 1913 Yadkin Co., NC – buried Prospect UMC Cemetery, Yadkin Co., NC – and Georgia Miller born December 1880 (death date / burial place not known).
She married #1 Joe Ezar and was the mother of Coach Joel Matthews Ezar and Martha Jane Ezar.
She then married R S Van Vleek and had two more children.
At the time of her death she was married to R. B. Van Vleck.