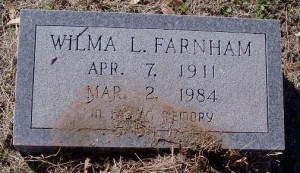 Location: U-Baker
Born: April 7, 1911 Linn, Osage County, Missouri
Died: March 2, 1984 Waco, McLennan County, Texas
Parents:
Charles Litton (1876 – 1957)
Elizabeth Mantle Litton (1885 – 1944
Mrs. Wilma L. Farnham, 72, of Waco died Friday night at a local hospital.
Graveside services will be at 3 p.m. Sunday at China Spring Cemetery, the Rev. J.W. Riemenschneider officiating.
Mrs. Farnham was born April 7, 1911 in Linn, Mo. She owned and operated a general store in Purty, MO. for about 25 years and had lived in Waco the past five years.
She was a member of the Reorganized Church of Jesus Christ of Latter Day Saints.
Survivors include a daughter, Tommie Jo Aldrich of Moses Lake, Wash; brother, Emery Litton of Linn, Mo; two sisters, Carrie B. Vidrine of Waco and Bernadine Boss of Jefferson City, Mo.