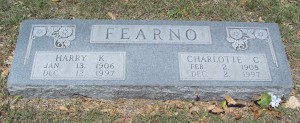 Location: U-Baker
Born: February 2, 1908 Hardin, Illinois
Died: December 2, 1997 Waco, McLennan County, Texas
Daughter of John Long
Spouse:
Harry K Fearno (1906 – 1997)*
Children:
Frances Sue Fearno Burt (1942 – 2005)
Harry Dean Fearno (1948 – 2010)
Charlotte Fearno, 89, of Waco died Tuesday, December 2, at a local hospital.
Services will be at 1 p.m. Thursday at China Spring Cemetery, with the Rev. Lynn Wilhite officiating.
Mrs. Fearno was born on February 2, 1908 in Hardin, Illinois. Her father, John Long, was a civil war veteran. She lived in Alton, Illinois and married Harry Fearno on June 26, 1950. Charlotte loved people and always made room in her home for anyone in need. She raised her nephew, Curtis Christy, who had cerebral palsy and died in 1988.
She is survived by her husband, Harry Fearno; daughter, Frances Burt; son, Harry Dean Fearno; three granddaughters, Laurie Burt, Charlotte Joyce Fearno and Deano Fearno.