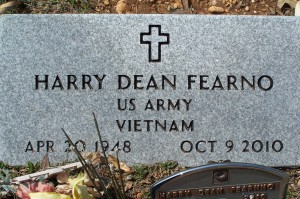 Location: U-Baker
Born: April 20, 1948 Waco, McLennan County, Texas
Died: October 9, 2010 Temple, Bell County, Texas
Parents:
Harry K Fearno (1906 – 1997)
Charlotte C Long Fearno (1908 – 1997)
Harry Dean Fearno, 62, of Waco, passed away Saturday, Oct. 9, 2010, at the Temple VA Hospital. Graveside services will be at 11 a.m. Thursday, Oct. 14, at China Spring Cemetery. Viewing will be 6 to 8 p.m. Wednesday, Oct. 13, at the Bellmead Funeral Home.
Harry Dean was born in Waco, Texas, to the late Harry and Charlotte Fearno. He served in the United States Army during the Vietnam War.
He is survived by his daughters, Charlotte Fearno and Deana Fearno; grandson, Larry; granddaughter, Layla; niece, Laurie Metcalf; and a host of friends.