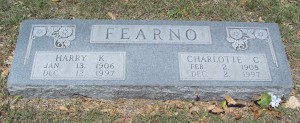 Location: U-Baker
Born: January 13, 1906 Greenfield, Greene County, Illinois
Died: December 12, 1997 Waco, McLennan County, Texas
Parents:
Thomas D. Fearno (1870 – 1937)
Laura Virginia Perkins Fearno (1869 – 1953)
Spouse:
Charlotte C Long Fearno (1908 – 1997)
Children:
Frances Sue Fearno Burt (1942 – 2005)
Harry Dean Fearno (1948 – 2010)
Harry Fearno, 91, of Waco died Friday, Dec. 12 at a local hospital.  Services will be 2 p.m. Saturday at China Spring Cemetery with the Rev. Lynn Wilhite officiating.
Mr. Fearno was born Jan. 13, 1906, in Greenfield, Ill.  He married Charlotte Long June 26, 1926.  He moved to Waco in 1950.  He worked for Owen Illinois.  Mr. Fearno was a 32nd degree Mason and a member of the George Denton Lodge.  He was a member of Lakeshore United Methodist Church.  He was preceded in death by his wife, Charlotte Fearno, on Dec. 2, 1997.
He is survived by his daughter, Frances Burt; son, Harry Dean Fearno; and three granddaughters, Laurie Burt, Charlotte Joyce Fearno and Deana Fearno.