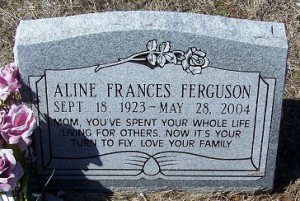 Location: F-Pierce
Born: September 18, 1923 Waco, McLennan County, Texas
Died: May 28, 2004 Waco, McLennan County, Texas
Parents:
Laura Lilly Truitt Weaver (1899 – 1948)
Spouse:
Joe Ray Ferguson (1917 – 1983)
Children:
Randall Eugene Ferguson (1949 – 1960)
Aline Frances Ferguson, 80, of Waco, passed away Friday May 28, 2004. Services will be held at 10 a.m. Wednesday at Pecan Grove Funeral Home. Burial will follow at China Spring Cemetery. Visitation will be from 6 to 8 p.m. Tuesday at the funeral home.
Mrs. Ferguson was born Sept. 18, 1923, in Waco to Charles Weaver and Lilly Truitt Weaver.
She was preceded in death by her husband, Joe Ray Ferguson; son, Randall Eugene Ferguson; and daughter-in-law, Donna Lynne Ferguson.
Mrs. Ferguson is survived by four daughters, Jerry Zucker and husband, Paul, Teresa Gierhart and husband, Mike, Rose Rogers and husband Steve, and Barbara Sandlin and husband, David; six sons, Mike Ferguson and wife, Sharon, Larry Ferguson and wife, Wilma, Joe Ferguson, David Ferguson and wife, Violet, Rick Ferguson, and Steve Ferguson and wife, Lori; 23 grandchildren; and 41 great-grandchildren.