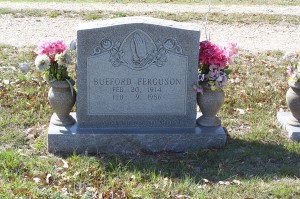 Location: V-Eichelberger
Born: February 20, 1914 Waco, McLennan County, Texas
Died: February 9, 1986 Waco, McLennan County, Texas
Parents:
Ernest Sanford Ferguson (1877 – 1957)
Lola Mae Tate Ferguson (1892 – 1968)
Spouse:
Virginia L Knight Ferguson (1919 – 1980)
Children:
Bobby Gene Ferguson (1944 – 2002)
Bueford Ferguson, 71, of Waco, a former Montgomery Ward Co employee, died Sunday morning in a local hospital.
Graveside services will be 2:30 p.m. Tuesday at China Spring Cemetery, the Rev. Rayford High, Jr. officiating.
Mr. Ferguson was born February 20, 1914 in Waco and attended Waco schools. He worked for Montgomery Ward Co. for 35 years, retiring in 1978 as building engineer. He was a member of St. Paul's Episcopal Church.
Survivors include his wife, Sarah Ferguson; daughter, Evelyn Calvello of New York; son, Bobby Ferguson of Clifton; six sisters, Lillie Bell Shakespeare, Lola Mae Cross, Frances Pruit and Jewel Butler, all of Waco and Luella Katherine Crowdis of Fort Worth; brother, Les Ferguson of Waco; seven grandchildren; and nine great-grandchildren.