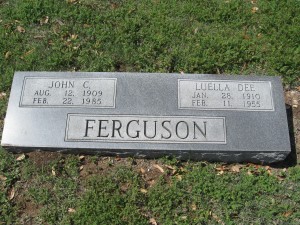 Location: I-Jackson
Born: August 12, 1909 South Bosque, McLennan County, Texas
Died: February 22, 1985 Waco, McLennan County, Texas
Parents:
Ernest Sanford Ferguson (1877 – 1957)
Lola Mae Tate Ferguson (1892 – 1968)
Spouse: Luella Dee Eichelberger Ferguson
John C. Ferguson, 75 of Waco, died Friday in a local hospital.
Services will be at 1 p.m. Monday at Wilkirson-Hatch Funeral Home Chapel, the Rev. Terry Nelson officiating. Burial will be at China Spring Cemetery.
Mr. Ferguson was born August 12, 1909 at South Bosque, where he attended school. He was married to Louella Eichelberger November 23, 1935 in China Spring. She died February 11, 1955.
He was a member of First United Methodist Church of China Spring.
Survivors include his wife, Dorothy Ferguson; two sons, Charles Ferguson and John D. Ferguson; daughter, Mrs. Delores Garry of Houston; six sisters; two brothers; six grandchildren; and one great-grandchild.