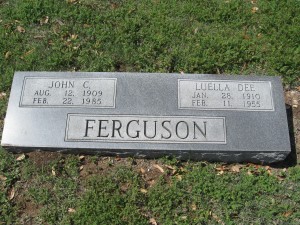 Location: I-Jackson
Born: January 28, 1910 McLennan County, Texas
Died: February 11, 1955 Waco, McLennan County, Texas
Parents:
Chas V (Jones) Eichelberger (1889 – 1990)
Sarah Catherine Davis Eichelberger (1883 – 1933)
Spouse: John C. Ferguson
Mrs. John C. Ferguson, 45, of China Spring died at 9:15 p.m. Friday in a local hospital.
Funeral services will be held at 2:30 p.m. Sunday at the China Spring Baptist Church, Rev. Don Richey and Rev. Earl Vanderford officiating, burial in China Spring Cemetery.
Survivors: her husband of China Spring; two sons, Charles Ferguson and John Davis Ferguson; daughter, Delores Ferguson; two brothers, Martin Eichelberger and R. E. Eichelberger of Travis Air Force Base, California; one sister, Mrs. W. H. Peters.