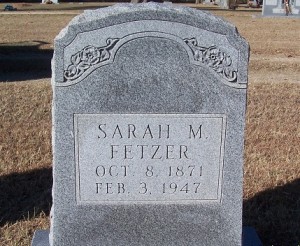 Location: L-Roberts
Born: October 8, 1871 Oklahoma
Died: February 3, 1947 Bandera, Bandera County, Texas
Daughter of R. L. and Emily Conley McBee
Spouse:
Jubal Early Fetzer (1869 – 1922)
Children:
Tom Presnall Fetzer (1894 – 1971)
Sterling Price Fetzer (1896 – 1977)
Robert Lee Fetzer (1899 – 1974)
Beverly B Fetzer (1904 – 1973)
Baby Fetzer (1915 – 1915)
Mrs. Sarah M. Fetzer, 75, of Bandera, Texas passed away at her home at 8:30 a.m. Tuesday.
Funeral services were held in the Wilkirson-Hatch Chapel at 2 p.m. Wednesday, the Rev. C. E. Wade officiating, burial in China Spring Cemetery.
Survivors: six sons, Enoch Fetzer of Waco, T. P. Fetzer of San Antonio, R. C. Fetzer of Houston,  S. P. Fetzer of Houston, R. L. Fetzer of Rosenthal, and B. B. Fetzer of San Francisco, California; two daughters, Mrs. W. J. Boleman of Hewitt and Mrs. R. J. Beene of Bandera; three sisters, Mrs. M. Cummings and Miss Ellen McBee, both of Waco and Mrs. E.C. Holmes of Fort Worth.