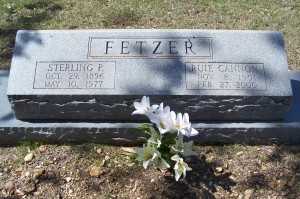 Location: H-Garrett
Born: October 29, 1896 Bosque County, Texas
Died: May 10, 1977 Waco, McLennan County, Texas
Parents:
Jubal Early Fetzer (1869 – 1922)
Sarah Minerva McBee Fetzer (1871 – 1947)
Spouse:
Ruie Cannon Fetzer (1901 – 2000)
Children:
Billy E Fetzer (1926 – 2000)
Sterling P. Fetzer, 80, of Waco, died Tuesday in a local hospital.
Services will be at 11:30 a.m. Thursday in Wilkirson and Hatch Chapel, Rev. C. C. Schultz officiating. Burial will be in China Spring Cemetery.
Mr. Fetzer was born in Bosque County and attended school in Erath. He was a veteran of World War II and married Ruie Cannon on January 31, 1920 in China Spring. He was a member of St. John's United Methodist Church.
Mr. Fetzer worked for the Railway Postal Service in Houston for more than 30 years and was the manager of a government employees credit union for six years. After his retirement in 1968, Mr. Fetzer moved in Waco in February of 1969.
Survivors include his wife; two sons, Bill Fetzer of Austin and Jack W. Fetzer of Los Angeles, California; sister, Mrs. R. J. Beene of Kerrville; five grandchildren; and one great-grandchild.