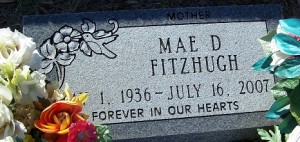 Location: V-Eichelberger
Born: May 1, 1936 Teague, Texas
Died: July 16, 2007 Waco, McLennan County, Texas
Parents:
Robert Lee Jackson (1896 – 1972)
Ina Mae Smith Jackson (1906 – 1945)
Mae Dean Dudzinski Fitzhugh, 71, life-long resident of Waco, passed away Monday, July 16, 2007, at her residence. Funeral services will be 10 a.m. Friday, July 20, at Pecan Grove Funeral Home Chapel with the Rev. Rick Oglesby officiating. Burial will be in Brooke Cemetery. Visitation will be from 6 to 8 p.m. Thursday at the funeral home.
Mae Dean was born in Teague, Texas, to the late Robert Lee and Ina Mae (Smith) Jackson. Her family moved to Waco when Mae was very young. She was a loving mother and grandmother and a caring person. She owned and operated several, local Texaco service stations over the last 30 years. She was an avid bowler. She was a member of Calvary Assembly of God.
She was preceded in death by her husbands, Frank Fitzhugh and Charles Dudzinski; and sisters, Reba Gage and Juanita Gray.
Survivors include sons, Leonard Gayle Sr. and wife, Linda, of Elm Mott, Gary Dudzinski and wife, Connie, of Houston, and Anthony Dudzinski and wife, Deborah, of Waco; daughter, Tracey Davis and husband, Perry, of Waco; 10 grandchildren; 11 great-grandchildren; sisters, Ina Obregon, of Elm Mott, Nelda Hatcher, of Mexia, Mary Johnson, of Everson, Wash., and Carol Page, of Elm Mott; and numerous nieces and nephews.