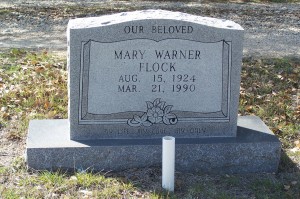 Location: V-Eichelberger
Born: August 15, 1924 Canton, Ohio
Died: March 21, 1990 Waco, McLennan County, Texas
Mary L. Flock, 65, of Waco died Wednesday at her home.
Graveside services will be at 4 p.m. today at China Spring Cemetery, the Rev. Paul Taft officiating.
Mrs. Flock was born on August 15, 1924 in Canton, Ohio, where she attended schools. She moved to Waco in 1963 and retired from Ramada Inn where she was a waitress.
Survivors include a daughter, Fredalynn Bozarth of China Spring; twin sister, Marjorie Bacher of Woodway; four brothers, John Warner of Waco, Paul Warner of California, Bill Warner of Mississippi and Chuck Warner of Hawaii; and two grandchildren.