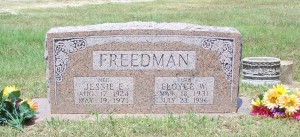 Location: F-Pierce
Born: March 18, 1931 Bosque County, Texas
Died: July 23, 1996 Waco, McLennan County, Texas
Parents:
Carl C Walker (1905 – 1991)
Dorothy M Walker (1907 – 1987)
Spouse:
Jesse Euil Freedman (1924 – 1971)
Floyce Walker Freedman Flowers, 65, of Waco, passed away Tuesday, July 23, at a local hospital.
Funeral services will be held on Thursday, July 25 at 9:30 a.m. at Connally-Compton West Funeral Home Chapel. Burial will follow at China Spring Cemetery, the Rev. Donny Bearden officiating.
Mrs. Flowers was born March 18, 1931 in Bosque County. She was preceded in death by two husbands, Jessie (Ned) Freedman on May 19, 1971 and Roy Flowers on June 26, 1982.
Suvivors include three sons, James Freedman of Moody, John Freedman of Valley Mills, and Paul Freedman of China Spring; daughter, Brendia Jones of China Spring; step-daughter, Susan Crocker of Waco; step-son, Corky Flowers of Bruceville; two brothers, Dickie Walker of Speegleville and Carl Everett Walker of China Spring; 12 grandchildren' and 4 great-grandchildren.