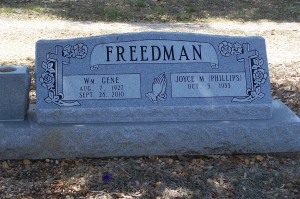 Location: V-Eichelberger
Born: August 7, 1927 Valley Mills, Bosque County, Texas
Died: September 28, 2010 China Spring, McLennan County, Texas
Parents:
Jess Hugh Freedman (1895 – 1965)
Allie Alivira Stanley Freedman (1898 – 1929)
Spouse: Joyce M. Phillips Freedman
William Eugene "Gene" Freedman, 83, passed away Tuesday,  Sept. 28, 2010. Funeral services will be 10 a.m. Thursday, Sept. 30, at Lake Shore Funeral Home Chapel. Burial will follow at China Spring Cemetery. Visitation will be 6 to 8 p.m. Wednesday at Lake Shore Funeral Home.
William was born in Valley Mills, Texas, to the late Jess and Allie (Stanley) Freedman. He married Joyce Phillips on June 2, 1950, in Sheppard, Texas. He enlisted in the U.S. Navy in 1945 and was in World War II on the Battleship New Jersey. Gene worked construction, building bridges for many years, and in 1972 started his own company, A & C Construction. He retired in 1999. He loved spending time with family, camping, hunting, and playing dominoes.
He was preceded in death by his stepmother, Emily York Freedman; brothers, Ned Freedman and Richard Freedman;  and sisters, Lillie Mae Johnson Light and Colene Lee Riddle.
Survivors include his wife of 60 years, Joyce Freedman; daughter, Cynthia Freedman; his "Little Buddy", Jesse Troutt; brothers, Ray Freedman and wife, Susie, D.G. Freedman, Duncan Freedman and wife, Linda, Carroll Freedman, Harry Freedman and wife, Ladonna; sisters, Velma Johnson, Dianne Jordan, Delma Mann and husband, Sammie, Inez Rogers and husband, Charles; and many nieces, nephews, and caring friends.