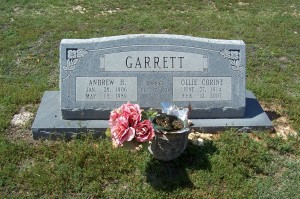 Location: G-Ferguson
Born: January 28, 1906 China Spring, McLennan County, Texas
Died; May 13, 1989 Waco, McLennan County, Texas
Parents:
Andrew H. Garrett (1840 – 1916)
Nannie Sarah Ross Garrett (1860 – 1951)
Spouse:
Ollie Corinne Crawford Garrett (1914 – 2007)
Children:
Martha Nanette Garrett Burt (1936 – 2007)
Andrew H. (Dinkie) Garrett, 83, of Waco died Saturday at his residence.
Graveside services will be at 4 p.m. Monday at China Spring Cemetery, the Rev. Glenn Jones officiating.
Mr. Garrett was born Jan. 28, 1906 in China Spring, where he attended school. He married Ollie Corine Crawford on Dec. 12, 1931. He farmed in the China Spring area many years, retiring in 1971. He was a member of Cogdell United Methodist Church.
Survivors include his wife; a daughter, Allison (Nanette) Burt of China Spring; a son, Jerry L. Garrett of China Spring; five grandchildren; and nine great-grandchildren.