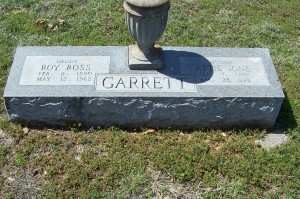 Location: G-Ferguson
Born: January 7, 1897 Canton, Stark County, Ohio
Died: March 28, 1990 Waco, McLennan County, Texas
Parents:
B I Maddux (1856 – 1932)
Lunnie V Maddux (1876 – 1962)
Spouse:
Roy Ross Garrett (1890 – 1962)
Children:
Albert Vernon Garrett (1917 – 1997)
Dorothy Hortense Garrett Brown (1923 – 1972)
Donald R Garrett (1926 – 1974)
She had four children: Verline, born in 1915, was in the military; Vernon; Dorothy; and Don, whose given name was Roy Donald and went by Don
Mrs. Attie Ione Garrett, 93, of China Spring died Wednesday at her home.
Graveside services will be at 2:30 p.m. today (March 30, 1990) at China Spring Cemetery, the Rev. Norman Suggs officiating.
Mrs. Garrett was born on Jan. 7, 1897 in Haskell and lived most of her life in China Spring. She married Roy R. Garrett on March 1, 1912; he died May 12, 1962. She was a homemaker and had retired from the food services department of Baylor University.
She was a Methodist.
Survivors include a son. A. V. Garrett of China Spring; eight grandchildren; and 17 great-grandchildren.