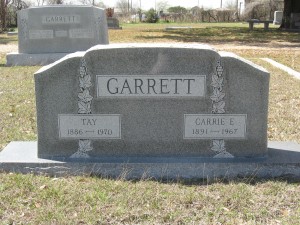 Location: E-Burt
Born: January 25, 1891 Erath County, Texas
Died: May 22, 1967 Waco, McLennan County, Texas
Parents:
Charles W. Grayson (1857 – 1937)
Nancy Jane Rogers Grayson (1857 – 1907)
Spouse:
Daniel Tay Garrett (1886 – 1970)
Mrs. Tay (Carrie) Garrett, 76, of China Spring died Monday morning in a local hospital.
Funeral services were held at 2 p.m. Tuesday at the China Spring Baptist Church, Rev. Paul G. Smith officiating, burial in China Spring Cemetery.
Survivors: her husband; two sisters, Mrs. Ollie Woodard and Mrs. Dan Wallace of China Spring; two brothers,  W. P. Grayson of China Spring, and H.H. Grayson of Waco.