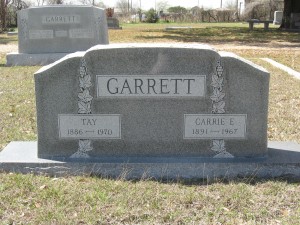 Location: E-Burt
Born: April 14, 1886 McLennan County, Texas
Died: August 6, 1970 Waco, McLennan County, Texas
Parents:
William Joshua Garrett (1858 – 1931)
Emmon Eliza Marley Garrett (1855 – 1938)
Spouse:
Carrie E. Grayson Garrett (1891 – 1967)
Tay Garrett, 84, of Route 3, Waco, a lifetime resident of McLennan County, died Thursday evening in a local hospital.
Funeral services will be at 10 a.m. Saturday at the China Spring Baptist church with Rev. Gary Heron and Rev. Carl Jones officiating.  Burial will be in the China Spring Cemetery.
Mr. Garrett farmed in the Erath and China Spring communities until he retired in 1955.  He married Miss Carrie Grayson of China Spring in 1910.  She died in May, 1967.
He was a former member and deacon of the Erath Baptist Church.  He later moved his membership to China Spring.
He is survived by one brother, T. P. Garrett of Route 3, Waco; and one niece, Mrs. Ben H. Roberts, Jr. of China Spring.